for this week's TRIBUNE magazine : 'Eccentricities of a Blonde Haired Girl' and 'undertow' [both 6/10]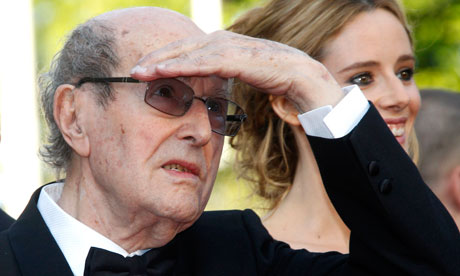 Eccentricities of a Blonde Haired Girl
Director: Manoel de Oliveira
   undertow
Director: Javier Fuentes-Leon
– – – – – – – – – – – – – – – – – – – – – – – – – – – – – – – – –
AS the present century wears on, the phenomenon of prominent, busy centenarians will surely become less and less unusual. But for now the longevity and apparently unflagging energy of Portugal's Manoel de Oliveira, born December 1908 and still making movies (his Strange Case of Angelica is currently doing the film-festival rounds), renders him pretty much unique in the history of cinema.
   In other creative fields, the closest relatively recent parallels include cartoonist and painter Boris Yefimov, who remained active until his death at 108 in 2008; painter Alphaeus Philemon Cole, who exhibited up to the age of 103 (he died nine years later, in 1988); and poet Sasha Krasny, who published new poetry collections at 108 and 111, passing away in 1995 at 113.
   Such precedents suggest we may well have several more features from de Oliveira, especially given the fact that his recent pictures – including 2006′s so-so Belle de Jour semi-sequel, Belle Toujours, and his latest Eccentricities of a Blonde Haired Girl (Singularidades de uma Rapariga Loura) – tend to run just over an hour in length.
   To be fair, there's not much in the 64-minute Eccentricities to justify any more in the way of running-time – indeed, the material could easily have been compressed into a short of thirty minutes or so. De Oliveira's script is adapted from a short story by José Maria Eça de Queirós (1845-1900), regarded in many quarters as Portugal's greatest novelist. He's best known nowadays for his wildly controversial 1875 best-seller The Crime of Father Amaro – adapted into financially successful films from Mexico (2002, starring Gael Garcia Bernal, nominated for the Foreign Language Oscar) and Portugal (2005).
   The story upon which Eccentricities is based originally appeared in 1880 in the collection The Mandarin, and was most likely written during his time in the UK: working for the Portuguese consular service, he was stationed in Newcastle from 1874 to 1879, before moving on to Bristol.
   The film version concerns the amour fou which consumes Macário (played by De Oliveira's grandson Ricardo Trêpa), a Lisbon office-clerk quickly besotted with comely neighbour Luí­sa (Catarina Wallenstein.) Macário's dreams of marriage are stymied by his uncle Francisco (Diogo Dória) – who also happens to be his employer, and whose opposition is unspecified but implacably stern.
   Though set in present-day Lisbon, the essentials of the plot seem scarcely changed from Eça de Queirós's text and time: when Macário loses his job, he fears "starvation," a somewhat unlikely prospect for such an able chap in a 21st century EU member-state. But anyone who has visited Lisbon will attest that the stuffy atmosphere and old-fashioned goings-on in Eccentricities aren't that fanciful: many areas and corners of the city still have at least one foot in the past, social behaviour can proceed in a courtly manner, and at a sedate pace which strikes many visitors as startlingly quaint.
   And Eccentricities isn't without certain decidedly "modern" touches, such as the way De Oliveira handles the picture's framing story – Macário relates the entire narrative in retrospect, during a train journey to the Algarve. His interlocutor, a respectable middle-aged woman (Leonor Silveira), listens with rapt attention – more often than not, staring directly into the camera with oddly unnerving consequences for the viewer.
   So while it's hard to fully sympathise with Macário's frustration at the "eccentricities" of both his beloved and of the society within which he's trapped, the film is nevertheless a divertingly strange miniature, quite unlike anything else that's around at the moment. Then again, maybe the coming decades will reveal it to be entirely typical of what we might come to label "centenarian cinema."
IT'S unfortunately still quite unusual for Portuguese films to obtain UK release – even from internationally recognised eminences like de Oliveira. But the situation is even worse when it comes to South American countries outside of those cinematic powerhouses, Brazil and Argentina – hats off, therefore, to distributor Axiom Films for taking a chance on Colombian/Peruvian undertow, a likeable, small-scale metaphysical gay romance (think Truly Madly Deeply meets Brokeback Mountain) about the "forbidden" relationship between two straight-acting, thirtyish blokes in a small Peruvian fishing village. 
   Santiago (Manolo Cardona) is a well-travelled, quietly Bohemian artist/photographer who, while not exactly flaunting his sexuality, doesn't hide it under a bushel either. His bisexual paramour Miguel (Cristian Mercado), conversely, maintains a conventional facade – to the extent that he marries the unsuspecting Mariela (Tatiano Astengo) and gets her pregnant.
   The plot pivots around a tragic, offscreen development which occurs, rather suddenly, around halfway – and which it wouldn't be fair to divulge here, as the narrative technique in feature-debutant writer-director Javier Fuentes-Leon's script relies heavily on the steady parcelling-out of information. Suffice it to say that what has been a straightforward depiction of social dynamics becomes something more fable-like and allegorical, stranger and richer. That much-abused term "magical realism," so routinely applied to any kind of weird-leaning, allegory-inflected Latin American literature and cinema, is this time as good a fit as any.
   undertow (contracorriente) is persuasively acted by the appealing leads, with Astengo coping solidly with what is necessarily the trickiest role – shades of Anne Hathaway in Brokeback Mountain. It's shot by cinematographer Mauricio Vidal to evoke a strong, unobtrusive sense of place in this airy frontier between land and sea, a long way indeed from the big city – though it's never quite clear to what extent homosexuality remains taboo in this Catholic backwater.
   Pleasingly soapy in its storytelling convolutions – or, more precisely, telenovela-ish – undertow builds engrossingly and satisfyingly towards a climax… only to continue for nearly another half-hour, though this quart-in-pint-pot overflow is more a matter of structural problems in the screenplay than any indictment of Roberto Benavides' editing. 
Neil Young
27th July, 2010
written for the August 4th edition of Tribune magazine
ECCENTRICITIES OF A BLONDE-HAIRED GIRL : [6/10] : Portugal (/Fr/Spn) 2009 : Manoel DE OLIVEIRA : 63m (BBFC) : seen at Pictureville cinema, National Media Museum, Bradford, 19th March 2010 (public show – Bradford International Film Festival – complimentary ticket). Original report. {16/28}
UNDERTOW : [6/10] : Colombia/Peru(/Fr/Ger) 2009 : Javier FUENTES-LEON : 101m (BBFC) : seen at Antiguos Berri cinema, San Sebastian (Spain), 25th September 2009 (public show – San Sebastian Film Festival – complimentary ticket). Original report. {17/28}