for this week's TRIBUNE : 'White Material' [5/10]; 'When You're Strange' [5/10]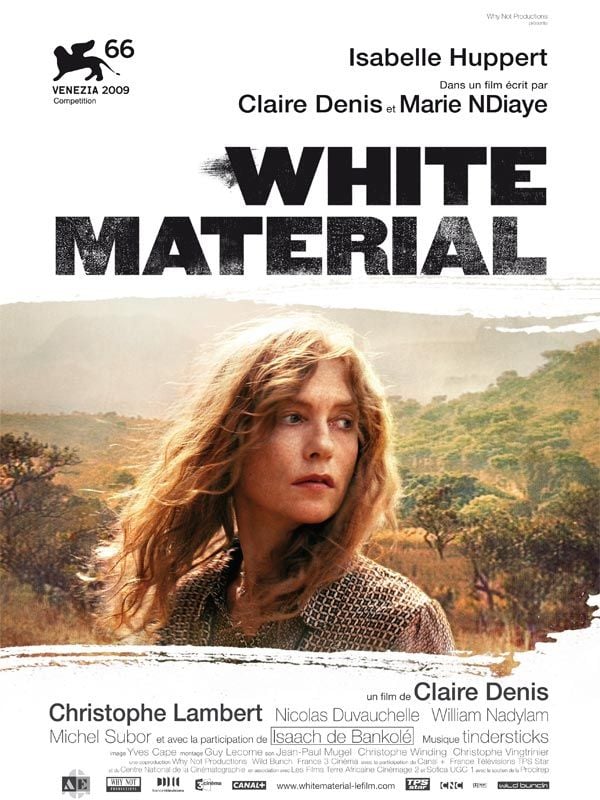 When You're Strange: A Film About The Doors
Director: Tom DiCillo
White Material
Director: Claire Denis "I… admired [Jim] Morrison almost to the point of jealousy," wrote Mick Farren in Give the Anarchist a Cigarette, his 2001 memoir of the London counterculture. "The rest of the Doors I wasn't sure about. I suspected that, without Jim, they'd be little more than a pretentious lounge trio. Jim, on the other hand, was the business… He'd mixed himself a cocktail of shaman mysticism, Freudian darkness, radical politics and horny guy in leather pants, and was willing to exhibit himself in public, loaded on the concoction. He was also unreasonably blessed by being almost as pretty as Elvis before the bloat."
   (You know that) it would be untrue to say that Farren says more about Jim Morrison and The Doors in one chapter of his book ('The Doors of Perception' – pp190-195) than Tom DiCillo manages in the whole 86 minutes of his hagiographic documentary When You're Strange (handily subtitled A Film About The Doors). But it would also be quite a close-run thing, DiCillo's picture providing only a serviceable introduction to the Los Angeles quartet who have oscillated in and out of fashion since Morrison's premature death in a Parisian bathtub back in 1971.
   DiCillo remains best known for his 1990s "indie" hits such as the still-superb Living In Oblivion (1995) and Brad Pitt's first starring vehicle Johnny Suede (1991) – his features in the following decade comprising the relatively little-scene Double Whammy (2001) and Delirious (2006). When You're Strange seems as unlikely to produce a late-career revival for DiCillo as it is to spark many new converts to The Doors' music. This is essentially by a fan, for the fans, the USP being DiCillo's access to long-unseen footage of Morrison and the band at work and at play – though the price for such privileged access seems to have been a general downplaying of the role of drugs in the outfit's career in general and in Morrison's demise in particular.
   This isn't the only conspicuous omission – the first we hear of the Vietnam war, a crucial element in The Doors' cultural and historical context, is when there's a brief mention of The Lizard King's dad, a navy admiral no less, being "off the coast" of the country. DiCillo's is excessively fixated on the front-man's cult of personality, so that When You're Strange is less A Film About The Doors than A Film About Jim Morrison – to the extent that anyone relying on this movie for information would have no idea that the band continued as a three-piece for a couple of years after the Paris bathtub incident, releasing two more albums before splitting up for good in 1973.
   This Morrison focus is, pace Farren, quite understandable – but even so, DiCillo isn't enough of a rock-critic or cultural commentator to get away with supplying nearly every word of the copious voiceover (intoned by a too-cool-for-school Johnny Depp), thus excluding any external opinion or analysis of this "unique genius". Danny Sugerman, co-author of the key Morrison biography No One Here Gets Out Alive, has been dead since 2005 and his collaborator Jerry Hopkins reportedly lives in Thailand, but at the very least DiCillo might have added some depth by quoting from their excellent text.
   As it is, we're left with too many trite, questionable observations ("Morrison is both innocent and profane. No one has had this exact combination before") accompanying unimaginative, cliché-ridden visuals. Fortunately, DiCillo incorporates enough footage of The Doors in their swaggering pomp to ensure that When You're Strange remains passably watchable throughout – even if he can't resist cutting Morrison and co short in order to move on to the next chapter of what becomes a repetitive, decidedly non-strange. chronological plod down psychedelic/nostalgic memory lane.
IF When You're Strange represents something of a frustratingly missed opportunity, Claire Denis' White Material is, if anything, even more disappointing. The latest feature from the 62-year-old, Paris-born, African-raised writer-director responsible for 2004's deliciously sui generis masterpiece The Intruder (aka L'intrus) and  it shows how very volatile and alchemic are her cinematic gifts. Denis favours an elliptical, ethereal, elusive form of storytelling that can deliver rough magic – as in The Intruder and also her most popular work to date, 1999's Beau Travail – or bafflingly opaque obliqueness, as in 2001's urban-vampire misfire Trouble Every Day.
   White Material, like 2008's 35 Shots of Rum, lands somewhere in between – delivering powerful grace-notes within a wider structure that can't quite hold the weight of Denis' philosophical, historical and psychological concerns. We're in an unnamed, fictional African country in the grip of civil war – both of whose main factions are hostile to the rich whites who remain as remnants of the colonial past. The latter include the coffee-growing Vial family: imperious Maria (Isabelle Huppert), her husband André (Christophe Lambert), rapidly-decaying father Henri (Michel Subor, so brilliant in The Intruder) and her emotionally volatile son Manuel (Nicolas Devauchelle).
   Whether by accident or design, this quartet of individuals all seem to be in different movies – especially Manuel, who may have strayed in from one of Bruno Dumont's violent existential dramas. Manuel's dire misfortunes power the eventful but confusingly-related plot, with further complications presented by marauding gangs of civil-warriors – including troupes of child soldiers.
   The combination of such tragic, ultra-serious topical subject-matter, alluring cinematography and score (by Tindersticks' Stuart Staples, a regular Denis collaborator) Huppert's irresistible screen-presence, Denis' track record, and her characteristic fractured narrative style will undoubtedly be enough for many to acclaim White Material as some kind of masterpiece. Those coming to Denis for the first time through this film may wonder whether it's a case of les nouvelles vêtements de l'imperatrice, as there doesn't seem to be very much substance or heart at the core of the enterprise this time around: not so much a full-flavoured double espresso, more a very skinny café au lait.
Neil Young
22nd June, 2010
(written for the 30th June edition of Tribune magazine)
WHEN YOU'RE STRANGE – A FILM ABOUT THE DOORS : [5/10] : USA 2009 : Tom DiCILLO : 86m (BBFC) : seen at Kursaal, San Sebastián, Spain, 24th September 2009 (public show – complimentary ticket) – San Sebastián Film Festival {12/28}
WHITE MATERIAL : [5/10] : France/Cameroon 2009 : Claire DENIS : 106m (BBFC) : seen at Fokus cinema, Tromsø, Norway, 18th January 2010 (public show – complimentary ticket) – Tromsø International Film Festival {12/28}